#MutualFundKickstarter: Get the Mutual Fund Edge over Fixed Deposits
Published On: 21-Jun-2018
When it comes to different investment options in India, fixed deposits (FD) top the popularity charts. It is not unusual to find people having invested in them for all kinds of needs, be it those for the longer-term or to meet imminent needs. Unfortunately, this often means ignoring four potent dangers faced by FDs.
Four Limitations Of Fixed Deposits
Keeping up with interest rates
Interest rates keep changing from time to time and with them, interest rates for fresh FDs. However, the interest rate offered for a particular fixed deposit at the time of investment remains the same during the FD term. For instance, a 3-year FD providing 8% annual interest will continue to provide the same interest rate even if the interest were to increase or decrease the next year.
However, the investor confronts a challenge when the FD matures and the investor needs to re-invest it. During a period of falling interest rates, the investor needs to hunt for the best rate for the period sought. On the other hand, during a period of rising rates, there is the danger of the investor losing out on getting the best rate.
Tax hit
The interest income from your FD is taxable according to your tax slab. Also, there is a provision of tax deducted at source (TDS) if the interest income is more than Rs 10,000 a year. So, if you are in top tax slab of 30%, and your bank fixed deposits earn 8% p.a, they effectively pay 5.60% p.a.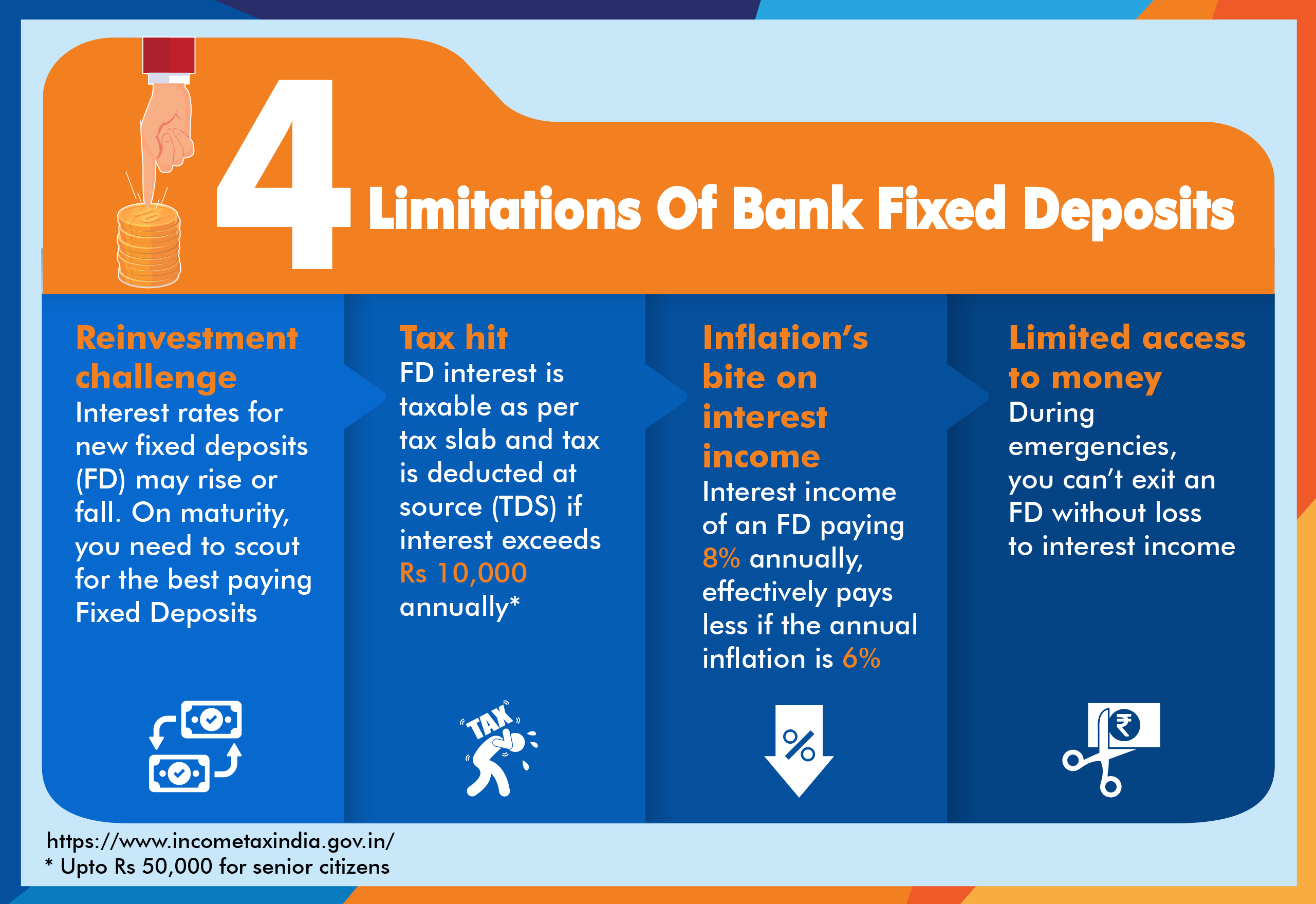 To download full eBook, Click here
Find out regular investments needed to create long term wealth with our SIP Calculator
Mutual Fund Investments are subject to market risks, read all scheme related documents carefully.