Invest in National Pension Scheme (NPS) to Save Tax
Published On: 17-Jul-2020
National Pension Scheme (NPS) was launched by the Government of India to create a social security mechanism for all Indians. NPS seeks to fill the gap with regards to creating a retirement corpus, wherein the subscribers cannot generally withdraw before retirement. Further, a part of the accumulated corpus at the time of the retirement must be mandatorily invested to buy an annuity to ensure regular income post-retirement.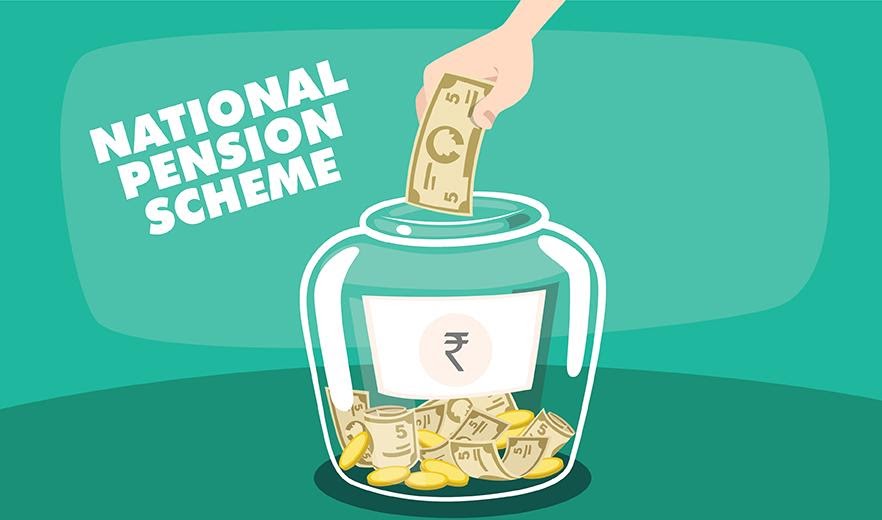 Features of NPS
There are two types of NPS accounts Tier-1 and Tier-2. While the Tier-1 account is aimed towards retirement planning, the Tier-2 account is aimed to keep funds invested in NPS for the short term with lower fund management charges. Given the different objectives both these accounts seek to achieve, the withdrawals from the Tier-1 account are restricted and allowed for specific reasons. On the other hand, the Tier-2 account is free to be withdrawn as investors choice.
Further, with the varied investor preferences, NPS investment allows the subscribers to choose amongst equities, Govt. bonds, and Corporate bonds. As such, the subscribers enjoy the flexibility to select the asset allocation to suit their risk profile and returns expectations.
Tax Benefits under NPS
The Govt. of India has provided several tax benefits for investments in NPS on the employer as well as employee's contributions. Here is a summary of such NPS tax benefits:
Employee Contribution under Section 80CCD(1)
The subscriber can claim benefit of up to 10% of the salary income for contributing a part of their salary in NPS under Section 80CCD(1) of the Income Tax Act, 1961. However, such benefit is restricted to an upper limit of Rs. 1.50 lakh seen together with other eligible tax-saving payments and investments, including payment of Life Insurance Premium, contribution to PPF account, repayment of home loan, etc.
Voluntary Contribution to NPS under Section 80CCD(1B)
When one makes a voluntary contribution to the Tier-1 NPS account, he/ she is eligible for an additional tax deduction of such contribution up to a maximum limit of Rs. 50,000. Such deduction is in addition to Rs. 1.50 lakh deduction under Section 80C as discussed above.
Employer Contribution under Section 80CCD(2)
The employers can also structure the pay package to include the employer's contribution to the NPS account, as a deduction can be availed in respect of such contribution without any monetary limit, but up to a maximum of 10% of the salary. Such tax deduction is in addition to Rs. 2 lakh deduction under Section 80C and Section 80CCD(1B) in aggregate.
However, by virtue of the amendments carried out in section 17(2)(vii) and (viia) by the Finance Act 2020, an upper limit has been provided on the tax-free status in respect of aggregate employer contributions to recognized Provident Fund, NPS, and Superannuation Fund up to Rs. 7.50 lakh in a financial year. Any excess amount will be considered as a prerequisite and taxed at the rates as applicable to the employee. Further, the returns on such employer contribution in excess of the limit will also be taxed.
Tax Exemption towards Partial Fund Withdrawal
As per the current rules, one can withdraw the funds accumulated in the NPS account partially only for meeting specified expenses. Such withdrawals are limited to a maximum limit of 25% of his/ her contribution to the Tier-1 NPS account.
Tax exemption is also available in respect of such partial fund withdrawal under section 10(12B) of the Income Tax Act 1961.
Tax Exemption towards Commuting Fund Corpus on Retirement
The NPS subscribers can avail tax exemption under section 10(12A) of the Income Tax Act 1961 in respect of 60% of the NPS corpus, which can be withdrawn at the time of retirement without any tax liability. Further, utilization of the balance corpus to purchase an annuity is also considered tax-exempt. However, the annuity income received from such annuity is taxable when such annuity is received.
Changes in the Tax Benefits under the New Tax Regime
The Finance Act 2020 has provided an optional tax regime under section 115BAC for the taxpayers, wherein they can opt for lower tax rates after foregoing specific exemptions/ deductions/ tax benefits as mentioned therein. The list of tax benefits required to be foregone amongst others includes the benefits under Chapter VI-A of the Income Tax Act 1961 including in respect of employee contribution to NPS and voluntary contribution to NPS under section 80C and 80CCD, however benefit under section 80CCD(2) shall continue to be available. If the taxpayer does not opt for the new tax regime, he/ she can continue to avail of all the tax benefits, as discussed above subject to the relevant provisions.
How to invest in NPS online?
There are different CRAs (Central Recordkeeping Agencies) allowed to maintain NPS accounts, including NSDL, KFintech, etc. One can open an account directly through such CRAs through their website. If Aadhaar is linked with the mobile number, one can generate a PRAN (Permanent Retirement Account Number) online through Aadhaar. Alternatively, one can visit the official Points of Presence (POPs) to open an NPS account, which can include the eligible bank branches etc. Once subscribers open the NPS account, they can visit the website of the CRA, register an online account through PRAN validation, and make the online payment.
With several tax benefits as outlined above, one can consider investing in NPS in pursuance of his/ her retirement goals.
Note: The tax provisions mentioned herein are very brief, not exhaustive and are as per the Finance Act 2020 The information is provided for general information only. This is not a tax advice. UTI AMC shall not be responsible in any manner for the information provided. Each subscriber is strongly advised to consult his or her or their own tax advisors with respect to the tax and other implications arising out of his or her participation in the NPS/prior to making any transaction/decision.