IT Services: Is sector's defensiveness a myth or reality?
Published On: 20-Jan-2020
While there is no text-book definition of a "defensive" stock, one key attribute is an underlying business with resilient earnings, making it a safer option during macro uncertainty.
The industries perfectly fitting into the above definition have products/services that are relatively immune to the economic cycles (domestic as well as global). For example, people will not stop consuming basic necessities (grocery etc) and medicines or visiting hospitals during economic downcycle. Few obvious names would be consumer staples (such as HUL, Nestle), pharmaceutical companies, utilities etc. Surprisingly, IT Services sector has also earned the tag of defensive in the Indian stock market.
In this note, we address two topics: (1) whether IT stocks have really shown defensiveness (and does the underlying business display defensive characteristics), and (2) what are the key enablers.
Are they really defensive?
A look at last 14 years data shows the defensive characteristics of the IT stocks. BSE IT index has outperformed the broader BSE 200 index in each period of greater than 10% fall in BSE 200 index. While the BSE IT index has also fallen in most of these instances, the fall has been moderate.
Exhibit 1: IT stocks have shown defensive characteristics in the past

Source: Bloomberg. Note: Considered instances of >10% fall in BSE 200 index post Sep-05.
Currency, and its correlation with macro provides defensiveness
In a weak domestic macro environment, INR typically depreciates. Being an export dominated sector, IT sector usually outperforms the broader market in periods of sharp INR depreciation, which generally also coincides with weak macro environment.
Exhibit 2: IT sector has usually outperformed BSE-200 in periods of sharp INR depreciation

Source: Bloomberg. Note: Considered instances of more than 5% depreciation in INR against USD.
Resilient financial performance even in the toughest years, and higher predictability
Revenue has grown in each of the last 18 years for the top-4 companies (aggregate), even in the most difficult years (such as global financial crisis of 2007-08). Margins have come-off, but remain at respectable 18-25%, and due to low capital requirement, they had solid cash-flows in each of these years. Indeed, cash conversion (conversion of net profits into cash-flow) has been improving and these companies have been distributing most of the year's profits as dividend/buy-back now. Return on invested capital (pre-tax and excluding cash) has remained healthy through-out.
| | | |
| --- | --- | --- |
| Exhibit 3: Even in the worst years, these companies have managed to grow; margins are gradually declining but are less volatile | | Exhibit 4: Solid cash generation track-record, increasing payout through dividend/buyback, and healthy returns |
| | | |
| Source: Company data. Note: Aggregate for top-4 Indian IT firms (TCS, Infosys, Wipro and HCL Technologies) | | Source: Company data. Note: Aggregate for top-4 Indian IT firms |
Exhibit 5: The financial track-record is not very different from the key consumer staple companies

Source: Company data. * Excluding acquisitions, the CAGR is 18%. Note: IT universe includes TCS, Infosys, Wipro and HCL Technologies. Consumer universe include HUL, Nestle, ITC, Britannia and Asian Paints.
Also, these companies have displayed very decent earnings predictability (measured as the average of % difference between the consensus forecast at the beginning of the year and the actual earnings in that particular year).
Exhibit 6: Earnings predictability has also been higher (The table below shows the absolute % difference between actual earnings and consensus earnings forecast for that year at the beginning of the respective year).

Source: Bloomberg. Note: The above calculation is done on the Nifty-50 companies (as on 6 January 2020)
Interestingly, this resilience is despite not so defensive attributes of the business
Exhibit 6: IT industry is competitive, and the business is subject to several volatile elements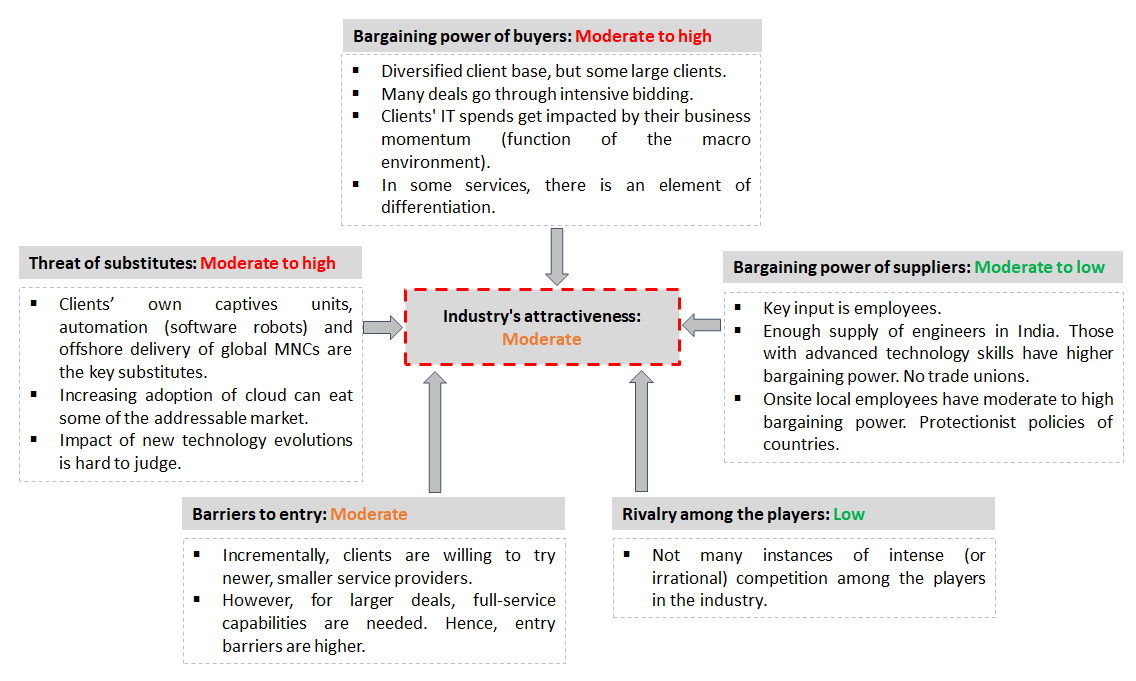 Unlike a typical defensive business, the Indian IT services companies has several volatile elements.
Global client base; exposure to cyclical industries: IT Services companies' client base includes global companies from both cyclical as well as non-cyclical industries. For example, US and Europe account for 80-90% of these companies' revenue and industries such as financial services, manufacturing, energy, telecom account for more than half of the revenue.

Material currency exposure: Earnings are sensitive to the currency. Revenue is in multiple currencies (mainly USD, GBP, EUR, CAD, AUD), but a reasonable share of the cost is in INR.

Competitive market: These companies typically don't enjoy very high pricing power, and a reasonable share of the business is commoditised.

Technology disruptions: Technology changes have direct implications on their business. They have to continuously adapt and retrain their employees to remain relevant to their clients.
In the following section, we explain, how these companies have overcome the shortcomings of their business model, to generate such a resilient financial and stock performance.
Adaptability, execution, all-pervasiveness of technology, and currency are the key ingredients
The evolution of Indian IT firms can be summarised as a little bit of luck at the beginning, followed by a lot of "application".
While the Indian IT companies have been in existence for almost four decades, it was only in 1990's they really started showing signs of becoming true global organisations. The telecom reforms were followed by economic liberalisation, and globalisation wave also helped these companies.
Y2K led demand (year 2000 problem, which required upgrading of computer systems by companies) was one key defining moment. Similarly, talent shortage in the US during dot-com boom days was another factor that led to high demand for the engineers in India. Although demand was short lived, these events provided Indian IT companies with an opportunity to work with some of the largest global organisations,and demonstrate their execution capabilities.
Adaptability has been key for these companies' success
"In a rapidly changing industry like software, learnability, rather than knowledge base, is critical for sustained success." – NRN Murthy (Infosys, 1999 annual report)
As the Y2K related revenue started perishing and the dot-com bubble burst, Indian IT companies displayed nimbleness and proactiveness to add newer service lines and geographies, develop industry expertise and continuously re-skill their employee base. They kept on attacking the incumbents through their cost effective and highly flexible contracts.
These companies have mastered the global delivery model (with strong offshore engine), providing them with a definite cost advantage. Over time, these companies started winning large complex deals - they institutionalised strong processes across the organisation, which is key for scalability.
While they have traditionally not been the first movers in terms of technology evolution, but they have been quick learners. Be it a new programming language, new technology (cloud, AI, Blockchain), or new way of technology delivery (DevOps, agile), they have managed to adapt. Though still relatively small, they have also developed/acquired few decent industry specific platforms.
Scale used to their advantage
To fuel this growth, these companies had to hire employees in bulk, train/retrain them and manage them optimally. From over 100,000 in 2005, the employee base of the top-4 Indian IT firms has increased to close to 1 mn. In addition, they also have employees on contract. History suggests scale makes organisations rigid. However, these companies have so far managed to defy this common logic.
Case study: How TCS managed the scale?
In 2008, when TCS' headcount was nearing 150,000 and its revenue run-rate had crossed US$6 bn, management took a decision to decentralise the business. It divided the business into 23 different units, with their own mini-CEOs, P&L, HR departments etc. This solved the scale problem, and indeed, made it work in the favour of TCS. With the headcount size at above 400,000 and revenue above US$20 bn, TCS has repeated the same exercise in 2018. It now has over 150 such operating units.
Source: Company
And, currency has been an important factor helping the margins
Currency is an inherent part of the business model. Clients are billed in USD/GBP/EUR etc., and a fair chunk of delivery happens from India (costs are in INR). Given India is a developing country with higher growth rates, inflation/interest rate is typically higher than the developed countries. This reflects in the interest rate/inflation differential, leading to depreciation in INR against these countries' currencies – for example, INR has depreciated against USD at over 4% CAGR over the last ten years.
This has partly helped the companies in absorbing the wage hike impact. These companies also hedge consistently; hence, a part of the currency benefit is netted-off. Hedging also helps in downside protection in the periods of sharp INR appreciation.
All-pervasiveness of technology helped in weathering the cyclicality
Technology is disrupting every industry in some way or the other, and everyone is seriously investing in it. Amazon, Netflix, Uber etc. are examples of how technology companies have disrupted the retail, media/entertainment and travel industries. While these are well known names, there is a plethora of start-ups that have been challenging the well-established incumbents, with technology as the key differentiator.
Incrementally, technology is becoming more relevant in B2B (business-to-business) industries as well. Think of a corporate/investment bank, manufacturing plant, warehouse/logistics company, or industries as boring as insurance and mining - today, no company can make, deliver or market its products without the use of technology. Interestingly, some of them now claim themselves to be a technology company.
While efficiencies and automation are helping the clients reduce their traditional technology spends, they continue to invest in new technologies to remain competitive. Indian IT companies play at both the ends – they help clients in reducing the cost as well as make them more competitive (through new technologies). This helps them in weathering the cyclicality to some extent.
And, diversified business has protected from external shocks
Over the years, the business concentration of Indian IT companies has reduced considerably. A problem in one or two clients or in an industry has a more contained impact on the overall financials. Some risks such as weak global macro can not be completely avoided though.
Exhibit 8: The companies have become reasonably well diversified

Source: Company data. Note: The above values are average for the top-4 Indian IT firms. * Excluded TCS due to absence of data. BFSI stands for Banking, Financial Services and Insurance.
The way forward…
Some of the factors which helped Indian IT companies become multi-billion Dollar businesses are becoming less relevant. The cost arbitrage advantage has somewhat reduced and global peers are also trying to become more flexible. Automation and cloud have been some of the trends impacting the traditional business of these companies (still about two-third of revenue). Protectionism is increasing in several developed countries - consequently, Indian IT companies, that had largely relied on work visas (for example H-1B in US), have to increase the local hiring. In this scenario, Indian IT firms need to make few changes in their business model and bring something more to the table.
The market opportunity remains large and attractive though. In a world, where virtually everything is linked to technology, more and more processes are likely to be digitised, more software will be embedded into hardware, data is going to be generated in abundance and IT systems of organisations are likely to become even more complex. In such a scenario, the technology spending of organisations around the globe is bound to increase. Cyclical factors aside, the all-pervasive technology adoption should keep the IT spending of the clients healthy in the foreseeable future.
So far, so good
While traditionally, these companies have worked closely with the technology divisions of the client organisations, they are incrementally connecting with the business functions (broadening addressable market). They have been investing in new technologies, partnering with start-ups, and aggressively re-training their employees. Onsite investments have picked up in recent years – the share of local employees in the onsite workforce has reached almost halfway mark for these companies.
Not so long back, there were questions raised on these companies' ability to win business in the newer technology area, which required slightly different skill-sets and delivery model. These companies' growth at ~8% CAGR (over FY16-19) on a base of US$40 bn is a proof of the fact that they have been able to deal with the changes.
Margins (earnings before interest and taxes or EBIT) have already come-off from the peaks of over 30% to 20-25%. Onsite investments will likely continue, and pricing is unlikely to increase much. Execution helped these companies mature and it will also determine the future margin trajectory.
The addressable market remains large and growing, and India continues to have the advantage of a large pool of talented engineers that needs to be trained. As long as these companies continue to do what they have done through-out their life – "adapt", they should not only survive, but thrive.
"Software is eating the world" – Marc Andreessen used this quote in his 2011 essay. Nine years hence, it has become even more relevant, and this is the opportunity for the Indian IT companies.
Author Bio
Nitin Jain
Mr. Nitin Jain is a Senior Associate Vice President and Research Analyst in the equities team of the mutual fund operations of the company. He tracks IT, Internet, Oil and Gas sectors. Nitin joined UTI AMC Ltd in 2018. Prior to that he has worked with Credit Suisse, Ambit Capital and CRISIL in equity research domain. He is a Chartered Accountant (with All India Rank) from the Institute of Chartered Accountants of India and has also cleared the Level 3 exam of the CFA program conducted by the CFA Institute, USA.