Notes to my younger self -1
Published On: 05-Feb-2020
Start with The Fundamentals
Having worked for over 2 decades when I look back there are a few things I would tell my younger self especially on the personal finance side.
Financial Success is neither magical nor mysterious. It is the natural consequence of consistently applying fundamentals. - Jim Rohn.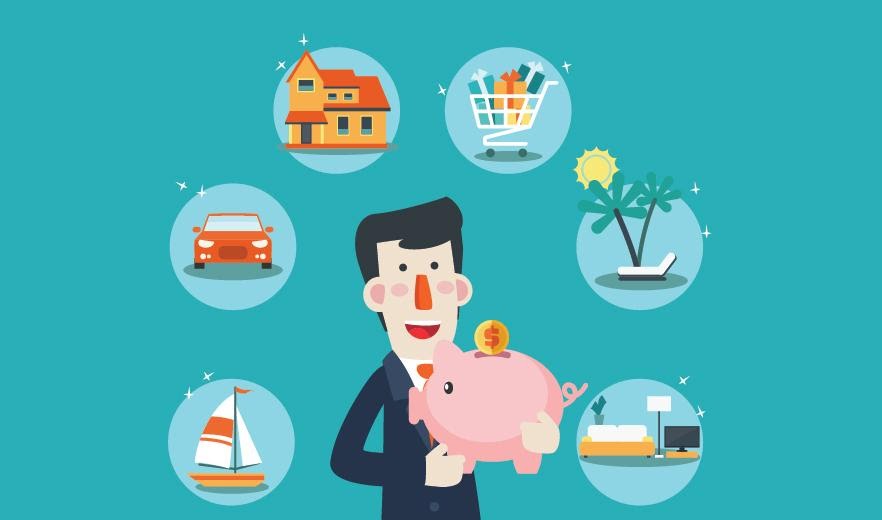 It is so easy to overestimate the importance of one critical event or one "big break" while simultaneously forgetting about the hidden power that small choices, daily habits, and repeated actions can have on our lives. Without the fundamentals, the details are useless. With the fundamentals, tiny gains can add up to something very significant.
So fundamental first ……
You join a new workplace and start filling many forms. remember some paperwork done right at this time will help you in good stead for the rest of your life. Get this out of the way to start on your journey to financial freedom.
Savings account in the bank linked to your salary deposit
Ensure that you understand the minimum deposit or quarterly balance requirement and any other associated charges

Also see to it that you have filled your nomination details very clearly

Last do not forget to spell out your email id and mobile number (many a times in a hurry we tend to sign off on blank forms). This will save you tons of time to do your digital transaction

Keep 3-6 months cash as emergency fund to be accessed anytime
As a management trainee we were running a large promo and the prize was an off-shore trip. People from the organisation had to accompany the winners and my name was amongst the ones shortlisted however I could not travel as I did not have a passport at that time. Opportunity can knock on your doorstep at any time. Let documents not be the reason that keep you away from an experience or opportunity.
Identity or Mandatory Documents
A permanent account number is a ten-character alphanumeric identifier. It also serves as an identity proof. Once PAN card is issued, it remains valid for the entire life of the PAN card holder. The primary objective of PAN is to use a universal identification key to track financial transactions that might have a taxable component to prevent tax evasion.
Please use the following link for filling out an application for issuance of PAN. https://www.incometaxindia.gov.in/Pages/form-pan.aspx .
You can get a PAN card by applying through the NSDL (National Securities Depository Limited) as well as through the UTIISL (UTI Infrastructure Technology and Services Limited). For applying you need to fill and submit Form 49A. You can get this form both offline and online depending on the method of your application.
The Aadhaar is a unique one-time government-issued identity card that is issued to all Indian residents. It is a 12-digit random number that records the individual's biometric and demographic data. ... The Aadhaar program was constituted in 2009 when the Unique Identification Authority of India (UIDAI) was set up.
https://uidai.gov.in/ is the site for getting all doubts cleared around this.
A passport is a travel document, usually issued by a country's government to its citizens, that certifies the identity and nationality of its holder primarily for the purpose of international travel
Login to the Passport Seva Online Portal
(https://portal2.passportindia.gov.in/AppOnlineProject/welcomeLink) with the registered Login Id. Click "Apply for Fresh Passport/Re-issue of Passport" link. Fill in the required details in the form and submit. Click the "Pay and Schedule Appointment" link on the "View Saved/Submitted Applications" screen to schedule an appointment.
So here it goes, pent up desires, aspirations for buying so many things and the day finally arrives when you start earning. Pause a bit before you start expensing out. Remember gone are the days when you joined a government job and retired from there drawing out a pension. So, the first rule to follow is
I realised as soon as I started getting my salary that I had all these pent-up desires to buy stuff, I started running out of money soon. In the 3rd month or so someone taught me an important lesson. He asked me to assume that I was getting Rs 1000/- less every month. Very early on I had learnt to invert the equation of income and expenses. #payyourselffirst. When you don't have it, you cannot spend it. This was 25 years ago and stuck on with me for life
Pay yourself first
Normally our grouse is that post meeting all our expenses we do not have any money left i.e Income – expenses = Savings.
The first step is to invert this and keep aside say 5% or 10% of your monthly earnings
Income – Savings = Expenses.
Now once this becomes a habit remember to increase this with every raise and bonus and you have started on the journey to create a large corpus.
Create a Safety net for yourself
There is an inherent need for all of us to create a safety net so that if something was to happen to your earning potential or earning capability then you are still able to maintain your life-style or your dependants can live comfortably. This safety is provided by term insurance plan. It is the purest form of life insurance and provides coverage for a specified term. This affordable as well. For a 22-24 yr old the premium to be paid annually could be between Rs 7000- Rs 10000 depending on the insurance provider. So, one should Buy that Term plan at the earliest.
It is very commonly said "Buy term, Invest the difference". Very early on because of more familiarity with insurance we end up buying money back or whole life policies. Instead if we buy term life the cost of insurance is fractional, and the money saved on premiums can be invested in say mutual funds.
Rising Healthcare Cost
While the organisation you work for will provide insurance it is also imperative that you look at taking a medical health insurance yourself as well. Any unexpected medical or surgical expense can be borne if you have this in place.
Come year end and the TDS certificates must be issued. I had not really taken time out to understand the tax benefits and just filled in the declaration without realising the implications or what I needed to do. in March of 1996 I took a large insurance policy (which was not a term policy) and virtually did not get in cash in hand that month. This was oft repeated for the next 5-10 years as March became a month of heavy outflows. A little forethought in taking this in the first 2-3 months would have helped spread out the expenses and note created fear #bewareofmarch for me
Study the Tax Rules
The Income Tax Act was enacted in the year 1961 and is the statute under which everything related to taxation is listed. While the government wants to tax your earning it also allows you to save taxes. Understanding this and doing your tax declaration properly enables you to get the right cash in hand every month else it creates a shock towards the last quarter when large deductions happen because this was not planned.
Now all of this might look onerous and cumbersome when you start of your career but remember that this is the launch pad for your financial planning journey. It gives you a fast start and removes any operational issues you might have towards this. So, get started.
Mastery in nearly any endeavour is the result of deeply understanding simple ideas. For most of us, the answer to becoming better leaders, better parents, better lovers, better friends, and better people is consistently practicing the fundamentals, not brilliantly understanding the details.
Disclaimer: The views and opinions expressed in this blog- article are those of the author and do not necessarily reflect the official policy or position of any other agency, organization, employer or company.
Continue reading next series click here "Notes to my younger self -2"
Author Bio
Gaurav Suri
Gaurav Suri provides leadership to the marketing and communication functions ( which includes Brand , Channel , product marketing and Investor education initiatives) along with Business Intelligence unit which serves to build data led decision making in the firm & Digital Eco System (which includes all the mobile , web assets and contact centre) for creating a digital business model for UTI Asset Management Company Ltd. He was a member of the AMFI financial literacy committee and leading communication development on "MF Sahi hai " campaign.His previous assignment was as Director Marketing and Product Development, Metlife. Having worked with a variety of companies such as FMCG Majors (Britannia Industries Limited-Danone group and Perfetti Van Melle) and the Insurance industry, he has over 24Years of diverse experience. After completing his Bachelor of Engineering (Mechanical} from Regional Engineering College, Bhopal ( MANIT) he went on to earn his MBA from XLRI, Jamshedpur.