ELSS for Building Retirement Corpus
Published On: 15-Jun-2020
Equity Linked Savings Schemes (ELSS) refer to the eligible equity funds, which are eligible for benefit under Section 80C of the Income Tax Act, 1961 up to a maximum of Rs. 1.50 lakhs from the total gross income. With its inherent benefits of potential for long term wealth creation along with the lowest lock-in period of three years amongst all the eligible investment options, ELSS has been emerging as the preferred investment choice amongst investors for tax saving purposes.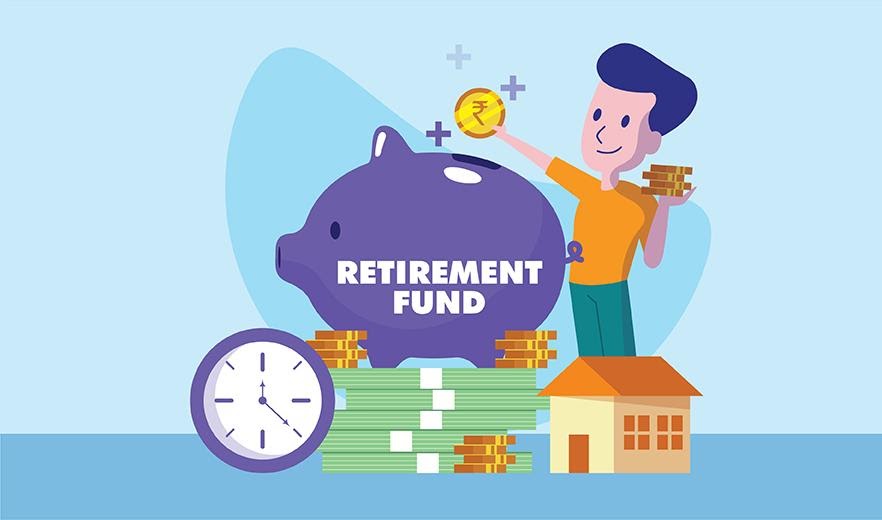 Systematic Tax Planning in ELSS through SIPs
Just like any other mutual fund scheme, the investors may register a Systematic Investment Plan (SIP) in ELSS. This helps them make regular investments towards their tax planning. After all, it is much easier investing Rs. 12,500 per month than investing Rs. 50,000 per month in the last three months of the year or even Rs. 1.50 lakh in a lump sum during the year.
Taxation of Gains from ELSS
Since the investors need to stay invested for a minimum period of 3 years, the gains from ELSS investments will always be taxed as long-term capital gains. The current Income tax laws provide that the investors are taxed at a rate of 10% on gains from ELSS investments. However, the investors are further eligible for an exemption up to Rs. 1 lakh per year for aggregate long-term capital gains from equity shares and equity-oriented funds taken together.
ELSS for Retirement Goals
While ELSS funds provide tax benefits, it may also help investors achieve their retirement goals and build a healthy retirement corpus. The investors may certainly club their tax planning and financial goals through the facility of systematic investing in ELSS coupled with a potential of better returns. Here is a simple illustration to reflect how investments in ELSS up to Rs. 1.50 lakh per year may help you accumulate a substantial retirement fund:
| | |
| --- | --- |
| Particulars | Amount |
| Amount invested per year | Rs. 1.50 lakh |
| Monthly SIP investment in ELSS | Rs. 12,500 |
| Investment period | 30 years |
| Assumed rate of return | 10% per annum |
| Amount Invested | Rs. 45.00 lakh |
| Tax Savings over 30 years | Rs. 13.50 lakh |
| Amount Invested (net of tax savings) | Rs. 31.50 lakh |
| Retirement Fund | Rs. 2.85 crores |
| Total Portfolio Returns (including tax savings) | Rs. 2.53 crores |
| Absolute Returns on net amount invested | 804% |
Source: The illustration assumes that the investor, taxed at 30% rate, starts investing at the age of 30 and aims to retire at the age of 60. The tax savings do not take into consideration the applicable cess and surcharge for the sake of simplicity. Further, the returns have been assumed as compounding monthly.
Further, with a lock-in period of three years, the investors may resist the temptation of redeeming their investments early in their investing cycles. Similarly, the fund manager also enjoys lesser redemption pressures, as a portion of the total fund size is always under the lock-in restriction. The fund manager may have a relatively long investment horizon and generate better returns for the investors.
As such, the taxpayers may choose to invest in ELSS for their long-term financial goals, including retirement planning, and aim to build a healthy corpus for retirement effortlessly over a period.
* The tax benefits as mentioned in the article are updated for the latest Union Budget presented, i.e., Finance (No. 2) Act, 2019, including the tax benefit for the amount invested, as well as the tax incidence on gains on ELSS. However, the tax on capital gains will be as applicable on the redemption date.
Disclaimers:
The chart/information shared above is for illustrative purposes only and should not be construed as advise. There is also a possibility of the expected event not happening or some other unforeseen event that may affect the future performance of asset class. Investors are requested to note that there are various factors domestic and global that can have impact on performance of the asset class mentioned in the article. Information given is available in public domain.
The information set out above is included for general information purposes only and is not exhaustive and does not constitute legal or tax advice. In view of the individual nature of the tax consequences, each investor is advised to consult his or her or their own tax consultant with respect to specific tax implications arising out of their participation in the Scheme. Income Tax benefits to the mutual fund & to the unit holder is in accordance with the prevailing tax laws/finance bill 2020. Any action taken by you on the basis of the information contained herein is not intended as on offer or solicitation for the purchase and sales of any schemes of UTI mutual Fund. Please read the full details provided in SID and SIA carefully before taking any decision.
UTI AMC Ltd is not an investment adviser, and is not purporting to provide you with investment, legal or tax advice. UTI AMC Ltd or UTI Mutual Fund (acting through UTI Trustee Company Pvt. Ltd) accepts no liability and will not be liable for any loss or damage arising directly or indirectly (including special, incidental or consequential loss or damage) from your use of this document, howsoever arising, and including any loss, damage or expense arising from, but not limited to, any defect, error, imperfection, fault, mistake or inaccuracy with this document, its contents or associated services, or due to any unavailability of the document or any part thereof or any contents or associated services