What Is Small Cap Fund? Who Should Invest in Such Funds and Why?
Published On: 25-Nov-2020
Every large-cap company started small in the past. Several companies have grown to be the market leaders with sound financial performance and proven track records from humble beginnings. Investing in the small-companies during its initial stages of growth allows the investors to generate better returns when small-cap companies' valuations get re-rated with the business's growth.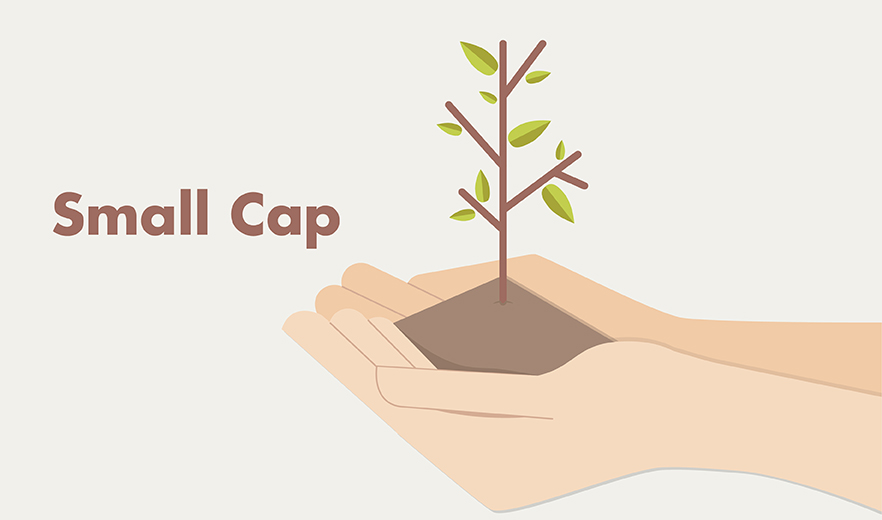 However, in the large crowd of small-cap companies, the investors must spot the right companies. Instead of investing in such companies directly, such investors may consider investing in small-cap funds to gain similar investment exposure with professional fund management of the money invested.
What is a Small-cap fund?
A small-cap fund invests predominantly in the equity shares of small-cap companies. SEBI guidelines prescribe the categorisation of listed entities based on their market capitalisation. While the top 100 companies in such a list are termed large-cap companies, the next 150 companies, i.e., from 101 to 250, are termed mid-cap companies. The companies featuring beyond 250th rank is termed as small-cap companies. Small-cap funds occupy a 7 % share within the open-ended equity funds with AUM (Assets Under Management) of Rs. 0.53 lakh crores as of 31st October 2020.
Source: Association of Mutual Funds in India – AMFI
The recent SEBI guidelines for defining the risk grades for mutual fund schemes assign a high-risk value to small-cap securities within the investment portfolio. While large-cap securities are assigned a market cap value of 5, mid-cap and small-cap securities are assigned 7 and 9, respectively. Since small-cap funds have a predominant share of small-cap securities within the investment portfolio, such funds have a higher probability of categorization under the 'High Risk' or 'Very High Risk' grade.
Why Invest in Small-Cap Fund
Investors may aim to invest in different companies in the initial growth phase and maybe the next market disruptor. Such companies, thus, carry the immense potential for growth and wealth creation. There might be some success stories and few failed ones in the growth phases, as small-cap companies may not have a lengthy history of financial performance to vouch for them. As such, the investors need to spot the right companies and at the right valuations. Small-cap funds make it easier for investors to invest in a diversified portfolio of small-cap companies.
Who should invest in Small-cap Funds?
Small-cap companies tend to have a higher gestation period to reach their real value. Thus, small-cap funds may be volatile in the short run while encapsulating the potential of higher returns in the long run. Accordingly, investors with aggressive risk appetite and a long-term investment horizon may only consider investing in such funds.
Tax Incidence on Returns from Small-Cap Funds
Gains from mutual funds may be in the form of dividend income or through appreciation in the NAV of the fund. While dividend income is added to the regular income of the investor and taxed accordingly, gains are taxed as Capital Gains at the tax rates depending upon the type of fund and holding period. Small-cap funds are classified as equity-oriented funds under Income tax laws.
The gains from small-cap funds are categorised as STCG (Short-Term Capital Gains) if the holding period is less than 12 months or LTCG (Long-Term Capital Gains) if the holding period is 12 months or more. STCG is taxed at 15% (plus applicable surcharge and cess), while LTCG is taxed at 10% (plus applicable surcharge and cess) without any benefit of indexation. The investors are also eligible for Rs. 1 lakh exemption regarding LTCG from equity shares and equity-oriented mutual funds in aggregate in a year.
With the implied volatility of such schemes being higher, the investors should invest in such funds to aim for better returns, albeit with higher risk. One should make a conscious decision about investing in such funds after striking a balance between their risk appetite and portfolio risk profile.
Note: The tax provisions, as mentioned in the article, are for illustrative purposes only and are updated as per the Finance Act 2020. The tax rates for capital gains will be as per the tax laws applicable on the date of redemption/ sale and not on the date of investment.
Disclaimers: The information set out above is included for general information purposes only and is not exhaustive and does not constitute legal or tax advice. In view of the individual nature of the tax consequences, each investor is advised to consult his or her or their own tax consultant with respect to specific tax implications arising out of their participation in the Scheme. Income Tax benefits to the mutual fund & to the unit holder is in accordance with the prevailing tax laws/finance act 2020. Any action taken by you on the basis of the information contained herein is not intended as on offer or solicitation for the purchase and sales of any schemes of UTI mutual Fund. Please read the full details provided in SID and SIA carefully before taking any decision.
UTI AMC Ltd is not an investment adviser, and is not purporting to provide you with investment, legal or tax advice. UTI AMC Ltd or UTI Mutual Fund (acting through UTI Trustee Company Pvt. Ltd) accepts no liability and will not be liable for any loss or damage arising directly or indirectly (including special, incidental or consequential loss or damage) from your use of this document, howsoever arising, and including any loss, damage or expense arising from, but not limited to, any defect, error, imperfection, fault, mistake or inaccuracy with this document, its contents or associated services, or due to any unavailability of the document or any part thereof or any contents or associated services.