Why should Financial Plans Be Reviewed periodically?
Published On: 11-Jun-2020
Planning responsibly for your financial goals is imperative for your financial health. It is said, "financial planning is an ongoing journey and not a destination." We live in a dynamic world, where the assumptions may be required to be adjusted with the changes in investing preferences. It is also possible that your financial goals or the risk-bearing capacity may have changed with time.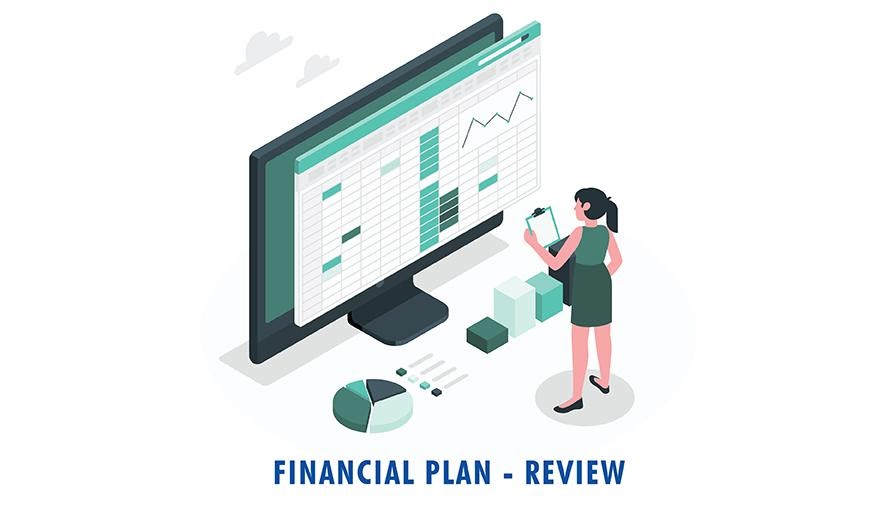 It is always good to check if you are moving on the right track to achieve your financial goals. Here are five reasons why you must review your financial plans periodically:
1. Mutual Fund Portfolio Review :
You must assess the performance of the mutual fund portfolio on a periodical basis so that the investment portfolio stays in good health. In case your mutual fund schemes have not generated returns as expected, you may not accomplish your financial goals. However, doing the financial review of the portfolio, make sure that you assess the performance of the funds on a long-term basis. Further, mutual fund schemes that are underperforming consistently must be replaced with better performing funds.
2. Changes in financial goals :
With time, the financial goals of an individual tend to change. While you may have started investing in mutual fund schemes to accumulate wealth for buying a humble home, you may wish to purchase a luxurious villa now and hence would require a higher investment corpus to achieve this goal. Similarly, you may want to send your son overseas for studies, and hence you would now want to invest towards a new purpose. Accordingly, a review of the annual financial plan must be made on a periodical basis to identify the need to align the financial plans with new goals.
3. Increase in the Investible Surplus :
As you continue to spend more time into your career, personal and professional growth would have pushed your earnings higher. With an increase in income, your savings should also ideally increase. So, while you would have started with some monthly savings, you must review your financial plans to add the additional investible surplus into your financial plans. Availability of higher monthly savings may also make your plan for additional financial goals, which you once sacrificed due to lower buffer for monthly savings out of your income.
4. Changes in the Risk Profile :
As you draw closer to your financial goals, you tend to prioritise the safety of the corpus accumulated. Further, such risk-bearing capacity also tends to decrease with the growing age. As such, the portfolio must also suitably adjust with the changing risk preferences of the investors. A periodic portfolio review makes it possible for you to align the investment portfolio with their risk profile.
5. Utilising the Income Tax Benefit for Long Term Capital Gains :
As per the Income Tax laws, taxpayers may avail exemption up to Rs. 1 lakh in a year in respect of long term capital gains on equity shares and equity-oriented funds. A periodic review of the investment portfolio may also help you identify the opportunities available to book profits on equity funds and still not pay any tax on such gains due to the annual exemption limit. One may also switch the investments into a fund with a lower risk profile and achieve multiple objectives with a single transaction.
While the world we live in continues to be dynamic, a periodic review of the financial plans helps you dynamically manage your finances as well.
Disclaimers: The information set out above is included for general information purposes only and is not exhaustive and does not constitute legal or tax advice. In view of the individual nature of the tax consequences, each investor is advised to consult his or her or their own tax consultant with respect to specific tax implications arising out of their participation in the Scheme. Income Tax benefits to the mutual fund & to the unit holder is in accordance with the prevailing tax laws/finance bill 2020. Any action taken by you on the basis of the information contained herein is not intended as on offer or solicitation for the purchase and sales of any schemes of UTI mutual Fund. Please read the full details provided in SID and SIA carefully before taking any decision.
UTI AMC Ltd is not an investment adviser, and is not purporting to provide you with investment, legal or tax advice. UTI AMC Ltd or UTI Mutual Fund (acting through UTI Trustee Company Pvt. Ltd) accepts no liability and will not be liable for any loss or damage arising directly or indirectly (including special, incidental or consequential loss or damage) from your use of this document, howsoever arising, and including any loss, damage or expense arising from, but not limited to, any defect, error, imperfection, fault, mistake or inaccuracy with this document, its contents or associated services, or due to any unavailability of the document or any part thereof or any contents or associated services.